WasAPsychicChild.com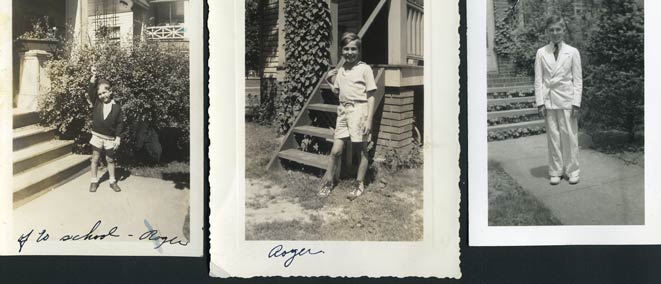 Roger Armstrong
Inviting you to share stories of your psychic childhood.
541-552-1021
Was A Psychic Child
Video 1. Astral friends trained 3 yr old Roger in Special Abilities Roger's parents were busy during 1933-34 trying to survive the Great depression. Not knowing what to do about Roger's playing with toys by moving without his touching them; they sent him to his Grandpa's farm. At the farm his Grandpa helped Roger develop his skills of lifting and moving things. He encouraged Roger's picture talking to the animals. There was a Fairy Ring near the watercress spring Roger would go there to picture talk with the wild animals and learn about their lives. Grandpa worked with Roger on his anger. They made a list of guide-rules to help and protect Roger as he interacted with society.

Rules for Psychics
Video 2. Twenty rules that evolved through questions and discussion of good answers. Some of the rules involve the same answer with a different view or application. "Use your abilities like an umbrella, only when it rains." was Roger's favorite.
Healing Bleeding, Cuts and Pain
Video 3. His inability to read labeled him as retarded. Roger gets glasses in the third grade. His father is pleased, because now Roger can catch a ball, and Roger's world changes. Reading becomes a passion and his reading level jumps to an Adult level in a matter of weeks. Roger still goes to the Valley park to practice his moving objects and practice his Astrol projection. He has hopes of being a softball pitcher and practices all winter.
Controlling Softball, Basketball, and Golf
Video 4. Controlling Softball, Basketball and Golf. Roger practiced projecting his Astrol image and making things weigh less. Moving objects with his mind pictures became easier. The new challenge for him was to control his pitching the softball with accuracy and with a variety of pitches. Controlling a basketball or a golf ball was much easier.
Psychic Student
Video 5. Jr. & High School. Roger becomes head of Church Youth Group; and gives inspirational presentations on Wednesday nights. Teams in Church League are champions in basketball and softball. Art is in a non-college track. So Roger has to plead to take solid Geometry and Physics. To everyone's surprize, Roger does go to college, for a while.
Telepathic Soldiers
Video 6. Telepathic Soldiers. Roger is assigned as a squad leader to 12 Appalachian Mountain Men and practiced telepathic communication with them. Though they are the butt of many "Hill Billy" jokes, because only two could read and write; the "Ghost Squad" gets it's name and respect in Field Training exercises. They win more first place ribbons than any squad in the Division. Roger's secret communication, their drive to be the best and their mountain skills make the Ghost Squad an unbeatable unit.
Telekinesis, Golf & Dice.
Video 7. Wednesday is sports day and Roger's 425 to 450 yard drives on the golf course catches the eye of Andy and Martha. Roger becomes Andy's golf partner and friend. Knopper and Roger experiment with dice and weekends become Hypnosis Time in the barracks, with several group Psychic experiments.
Hypnotizing Fort Meade
Video 8. Roger hypnotizes his company of 200 and the Master Sergeant. Roger brings the Sergeant out of hypnosis and has him take Company C out for the exhibition close order drill they had been working on but unable to do. A huge crowd watches the Company march with flawless precision. The Army is not pleased and Andy brings up the subject during Wednesday's golf game. Andy wants to know all about hypnosis.
Court Martial for Roger?
Video 9. Andy tells Roger that his staff is talking about a Court Martial for him due to the hypnotising of company "C". As they play golf Roger explains the hypnosis process and its limitations. Roger asks Andy for his advice about the Ghost Squad's honor to march in the lead position of the Basic Training Graduation Parade. Andy shakes his head in amusement; "They're your boys?" and wants to know how the Ghost Squad communicates. Roger tells Andy "We better sit down, for if your guys were upset at the Hypno, they will go ballistic over this". After Andy learned all about the Ghost Squad; he gave the Ghost Squad the honors it deserved and during the parade they exchanged telepathic communication. The Squad was so proud.
Combat Psychic
Video 10. Korea. Front Line Psychic Soldier. Roger is assigned to the troops from Thailand as a Forward Observer from his 4.2 heavy mortar company. The Guardian's are there protecting Roger, yet putting him in apparent danger with some of their suggestions.
Measuring a UFO
Video 11. UFO hovers all night. The accurate surveying of the "No Man's Valley" to form a measured Fire Grid map to make the Mortars more accurate, was used to measure a UFO hovering in the valley. All the photographic film used to take pictures turned blank white.
Ghost Patrol
Video 12. "Ghosts" set an ambush for prisoners. Roger's Astrol projection and the Astral projection of the Guardian float above the valley battle field in Korean night; to understand where the mortar fire would be most effective. When floating over the "No Man's Valley" Roger and the Guardian would often follow the path's taken by the Chinese patrols. Roger thought he and the Guardian were invisible. The Thai soldiers, with Roger and the Guardian, plan to ambush a Chinese patrol to capture prisoners. Roger is nervous.
Buddha's Umbrella
Video 12a. During a ferocious assault by the Chinese troops, roger's observation post is one of the focal points of the attack. While returning fire down the slope of the hill, Roger creates a shield that repels bullets, hand grenades and shrapnel. After the battle, the Thai troops refer to the shield as Buddha's umbrella. Roger wins a silver star.
Blue Skies
Video 12b. The Chinese were preparing to assault the UN line again; Roger as the forward observer had his firing points planned out but Roger was very nervous. Guardian suggested that Roger do something to take his mind off the assault -- so Roger started to sing -- with surprising results.
Licking the Tiger's Ear
Video 12c. While on guard duty, Roger warns a Siberian tiger about some trappers...

Buddha's White Light Q & A
Video 13. It is cherry blossom time on the Japanese island of Kamakura in the spring of 1952 and Roger takes many photos and makes many sketches. At this large spread out winter palace of a former Emperior there is a very large bronze statue of Buddha. It was repaired in 1492 due to damage from an earthquake. It is here Roger is transported to stand with a group in front of Buddha's White Light for a Q & A session.
Indigo Summer School: Part 1
Video 14. A non-traditional Elementary Curriculum is developed by Roger and Mel Sudd. In 1957 at Eastern Michigan University, Ypsylanti MI. Mel is a 6th grade teacher and Roger teaches Art (K-12) in the Campus Laboratory school; while Roger's wife Kathy teaches college classes inTextile Design. Roger introduces Remote Viewing to his art students ( 3rd-12th grades), and they enjoy visually moving through paintings and drawings and being able to draw the "other" side of a still life or a model. Roger emphasizes the importance of clairvoyant seeing and the development of a visual (picturing) vocabulory. Soon his Jr High and High School students were drawing on the College level. It is at the Roosevelt Labratory School that Mel asks Roger to teach two of his 6th grade students that were disrupting his math lessions. Art is a hands-on active self-guided experience, and Roger, who is mathamatically challanged introduces the two students to a math focus adapation of the art experience where they develop the process to arrive at a given conclusion. They are introduced to math bundling and then they explore problems involving a mathamatics base of 13.
Indigo Summer School: Part 2
Video 15. Roger's exploring math as he taught art produced unusual results. After the "active learning" experience and challange, Mels students raced through Mel's math lesson plans. Roger and Mel analyze the Roger's teaching process that developed to see what factors were dominate and to see how it could be extended to other subjects. They devise a Summer School curriculum to test their idea that "all learning is interrelated" if presented in that format. They hoped that learning retention would be one of the desired results of the program. It was their view that student interest and action learning would be the key to self-motivated learning regardless of age, grade, ability or gender.
Indigo Curriculum: Breaking Educational Rules
Video 16. Indigo Summer School Curriculum: Part 3. The Indigo Summer School Student Centered Curriculum is implemented, and a very unusual educational structure is used to encourage student guiding of the educational process. The program was very effective with 3rd - 6th grade students (tested before and after) growing 10 to 30 IQ points and jumping 1 to 3 grade levels during the 50 day Summer School. The classes were a mix of all ages and gender. Some class developments are described, showing the open endness of the curriculum. The following year of "regular" school found the students very eager to learn and able to self-adapt and guide the standard teaching lesson plan into meaningful explorations. The 13 class Indigo Curriculum description can be down-loaded from the link at the bottom of this page.
Indigo Summer School Curriculum: Part 4.
Ideal Curriculum for Psychic Children
Video 17. The program's 13 class description is started. The explanation of individual class development in the process of student choice is started. The math class progression and the science class involvement. Science goes fishing and the varity of sciences involved are talked about Many of the classes used "Visual Focus" and other parts of "Psy Abilities" as part of the class structures. Community structures and business visits are explored.
Indigo Summer School Curriculum: Part 5. Indigo Curriculum: Cooking Class
Video 18. The programs 13 class description is continued. Even though student class choice was on a half day schedule, some classes evolved into long term interest. Other classses were structured so that "drop-ins" were welcome. Sports, music, cooking and art were good examples of short or long term student involvement. The individual class structures that were developed over the two summers of the program would be ideal for group Home Schooling, Charter Schools, or selective Privet Schools. Unfortunately, todays Federally mandated programs that treat students like cookie cutter "products" rather than "Clients" are not likely to allow any of these individual class constructs to be implemented during the standard school day. There is opportunity, and many schools do use the club or extra-curricula school structure to explore student interest and "action" learning.
Indigo Curriculum: "Take Apart"
Video 19. Wednesday afternoons were very popular. Students made requests to work in various businesses in the community. The rule was that the student was to work and particiapte in the business, not just look on. "Take Apart" was another short-term class of one day's duration, where a car engine was disassembled and re-assembled. The mechanics of a car engine was discussed as well as the organization required to facilitate the re-assembly. Since the students weren't required to stay in a class they chose, we had several open-ended classes that they could attend. Rhythm band was a popular walk-in. This started with a student's heartbeat and then the students developed rhythms in counterpoint.
What's Next.
Video 20. Roger is working on several other websites that are in development; one on hypnosis and pschic abilities, and psychic ability training to development and control either new or latent psychic abilities. Another site that Roger is working on is "Psychic Ability and Art." How to use telepathic, empathic and remote viewing abilities to aid in the production and perception of art.
Finding Psychic Children and meeting adults that were Psychic Children is the driving force for the U-Tube presence. Roger is preparing another site that will involve DVD's for home training of the techniques in the development of all Psychic abilities. Roger has used his control of Pain, Bleeding and Healing during a recent double knee replacement operation and at his three times a year Dental appointments. He has known of Guardian visits but did not call for their help. Night Flying, Inner-Art Walking, Remote Viewing, creating art and doing these videos are sources of pleasure for him. Over the years Roger was involved in teaching, creating art and developed several Art centered micro businesses.
Downloads:
Roger's Vita
Index of Abilities
Indigo Curriculum
Grandpa's Rules
This is a list of Psi Abilities Use from IndigoSociety.com



Please subscribe to
my YouTube channel
IndigoSociety.com
Here is site with large discussion groups with many forums and threads by and about people like us.